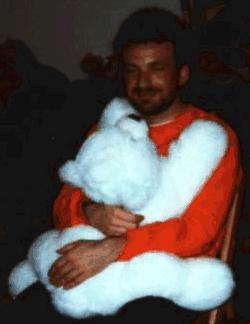 Hi, I'm Inge, I live at the nice and comfortable place of 42.Org since it exists. I share my room with Sec, who is actually a human.
My Hobbies include sleeping¹, having fun with Björn² and writing E-Mails³. I hope that some day somebody will assist me in scanning a nice picture of mine, so that i can include it here. Meanwhile i only have that nice photo, which was taken during a party here at 42.Org, with Flori holding myself in his arms. *boah* this was a nice evening :). You can easily guess that i like partys, because everybody wants to hug me. Yes, that's one of the advantages beeing a big, soft white Bear. If you think Icebears can't talk and/or write, take a look at my cousins who actually gave an interview in a popular movie.
People i know include KrUeMeL, who is the 'mother' of Eddie and Funny, two other animals on the net. Dyfa's 'Knuddelelch', SiSSel also has an e-mail address: &ltsissel@definitely.addict.de> at wich he likes getting nice greetings as well as i do. So you can see that i never feel alone.